…of Fearon Hall. Here's a little taster of what life's like at the Hall. Every day is different but it we're constantly amazed at what each day can bring!
Arriving to work at 7.30am dressed head to toe in black, to prepare for today's Hindu Funeral.  We set up the room yesterday (Monday) as the funeral guests were due to arrive from 8am today.  We did our best to make sure the hall looked spectacular for this special family event and we wanted the family to be pleased that they chose Fearon Hall to support them at this difficult time.
The Hindu faith is centred around reincarnation; the belief that when someone dies, the soul is reborn as a different form.  Hindu cremations would normally take place on the Ganges River in India but in 2021 families are choosing to cremate locally ensuring that lots of other traditions and rituals are accommodated.  The Hindu Priest was the first to arrive at Fearon Hall this morning, he welcomed all the family and friends and led the chants, mantras and Hindu death rituals which included: –
Washing the body with ghee, honey, milk, and yoghurt
Placing essential oils on the head of the deceased
Placing the palms in a position of prayer
Placing a garland of flowers and 'pinda' (rice balls) around their loved ones
The casket remained open whilst mourners recited prayers.  A candle was lit and incense was burned around the deceased, his photographs were on display for everyone to see whilst paying their respects to the deceased.  Everyone said farewell to papa and the cortege moved on.
Only when writing this piece did I research Funerals and realised that black is considered an inappropriate colour to wear at a Hindu funeral.  Today I dressed head to toe in black as I thought that was respectful but it seems that white would have been a more appropriate colour.  I did however ensure that my arms and knees were covered and will remember next time to research before the funeral not after it.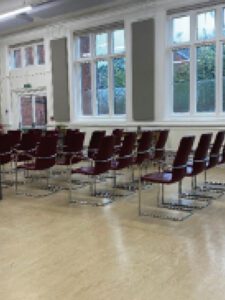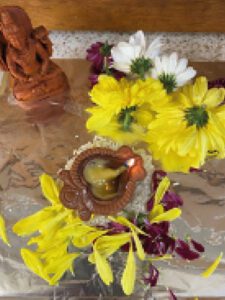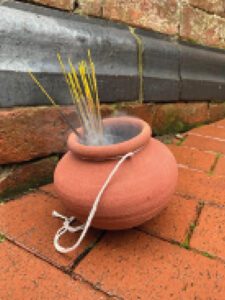 As soon as the funeral was over we (Lorraine, Peter & myself) set about redesigning the reception area in Fearon Hall.  Mark (Health & Safety/counsellor) was in the building today so he helped with moving furniture also.  It took longer than we expected and made a lot of mess in the process but by 5pm it was complete.  Two volunteers also came to the hall this afternoon (Linda & Tracey) to help restock our community shop, it took them 4 hours to sort and process the donations which we had received recently, but the shop is now ready for everyone to see on Thursday.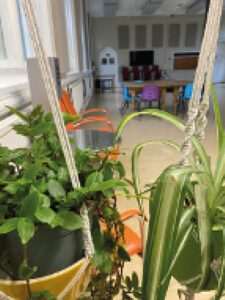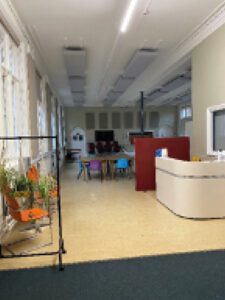 Morrisons supermarket phoned up at lunch time today to say they had a full pallet of food to donate to Fearon Hall, our food bank and to the most vulnerable members in our community.  Mark & I drove to Morrisons to collect the donation.  The car was full to bursting, I was pinned in my seat and my legs were packed in the foot well with bottles of salad cream, tinned tomatos and corned beef, we were almost doing wheelies driving back to the hall.  Transporting the food items from the pallet to the car then from the car to the Hall was very tiring but we did it and it will be great when we can distribute it to community members later in the week.  Not to be left out, Sainsburys also phoned today as they had a tray of cabbages that they wanted to donate to us, Meg collected those even though she was on annual leave this week.  We will be making use of some of the cabbages and distributing others later this week.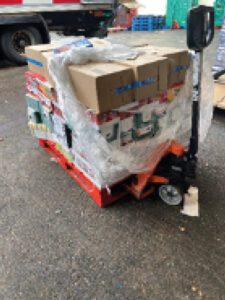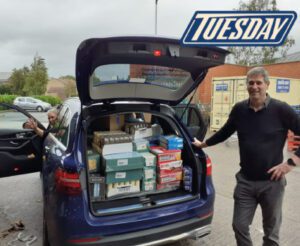 Also during the day the phone rang regularly for bookings and room hire, people rang about activities, one person suffering from anxiety rang and needed a long conversation, she has never been to the hall and wanted to know all about what we do.  People collected key fobs for their bookings later in the week, someone else came to measure the room ready for his bookings in November, one lady rang from her allotment wanting to drop off lots of butternut squash that she couldn't use herself, she told us that she doesn't live locally but is following what we do at the hall on social media as she thinks we are fabulous and doing a great job.  On top of everything else modern technology enables people to email us at Fearon Hall, today I only had 20 emails which is about half of what I normally receive, everyone of them is important to the senders, so all deserved a response by the end of the day.  One person on email today was not happy, they may be cancelling their already discounted booking, they expected more equipment from us than we can offer.  Their booking is important to us but we can't do everything they require.  It is upsetting when people are not happy, we don't purposely try to upset people but sometimes it happens.  I'm sure this person feels that their issue today was the most important part of my day, as I already said everyones emails are important to us but we have so much more to do and achieve in a day and unfortunately there was nothing I could do to change this situation.
At the end of the day members of the funeral party returned to the hall to collect some items left behind earlier, they thanked us profusely for everything we did this morning, they gave me the most wonderful hug and suggested that they will remember Fearon Hall in future when they are planning for happier occasions. 
Meg (still on annual leave) went shopping for wooden boards to use at our Festa Italiana event next week, and later she went shopping for the prizes which will be won on Thursday when we play bingo.  Choosing six bingo prizes might sound easy but trust me there is pressure involved in getting the best prizes for the right price, so that people keep returning to play bingo each week.
What a day we had, it was a long day, I am writing this at 9pm, it was hard work today with very few breaks but I personally came home feeling wonderful and excited at how much we had achieved. I couldn't have done all the above without our wonderful volunteers, so I need to remember to say thank you to them more often and be grateful that we have all been able to enjoy our day, we are all fit and well and we will be around tomorrow to do it all over again.