The last 5 months, during the Coronavirus lockdown, have seen many improvements in our facilities both visible and invisible.
The most obvious visible improvement has been the refitting of our kitchen which we were able to carry out with the aid of a facilities grant from Charnwood Borough Council totalling £19,734.13.  We then needed to match fund this amount by sourcing other income streams.  The rest of the funding came from Helen Jean Cope Trust, £5,000, Screwfix Foundation, £5,000 and Leicester Diocese, £7,050.32. To fit a commercial quality kitchen into a building erected in 1889 was extremely challenging and we would like to thank our resident (retired) architect Rick for guiding this process from start to finish.
We appointed MT Joinery Services and Loughborough Plumbing & Heating to carry out the extensive works. Refitting was planned to start in April, however when lockdown was imposed on 23rd March it meant that resources for the project could not be sourced, purchased or delivered so everything had to be put on hold.
Out with the old…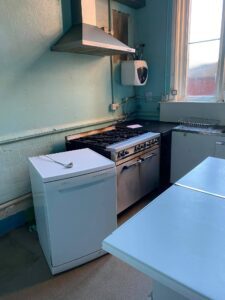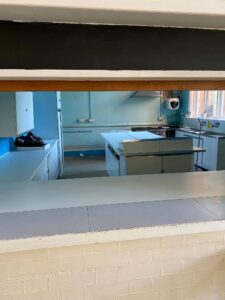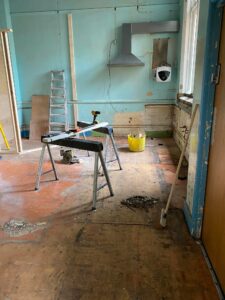 Once lockdown began to ease the contractors returned to the hall and began the refit.  Meg, Carrie & Dawn would like to take this opportunity to publicly thank Mark Thompson (MT Joinery Services) & Dave Monk (Loughborough Plumbing & Heating) for their excellent work throughout the refit, they were professional, did a fantastic job and left us with a kitchen which will serve the community for many years to come.
We can't wait to welcome everyone back to Fearon Hall and open our brand new café, we plan to serve hot drinks and other refreshments as well as hot & cold food.  Things may be slightly different due to Covid-19 such as waitress service only, but on the whole we will be the same friendly, welcoming café as you knew back in March.
In with the new…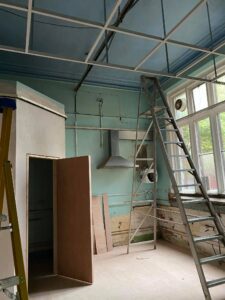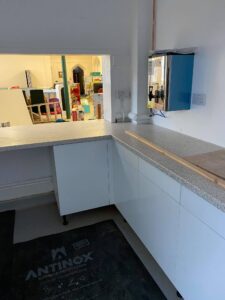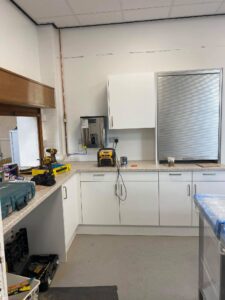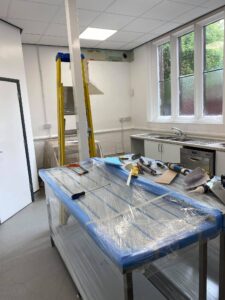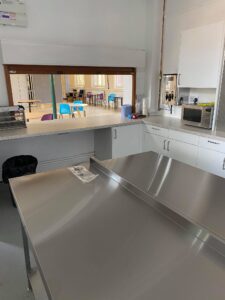 Another visible improvement has been to our store cupboard which has now become the Chatterbox room. Once everything was removed from the store room we could see the size would make a great space for counselling, therapy, interviews or other small meetings.  We decorated and laid a new floor covering, thanks to Rick again (our resident architect), we sourced cupboards and a table with 6 chairs.  This is now a lovely meeting room with direct access into the main hall.
The new Chatterbox takes shape…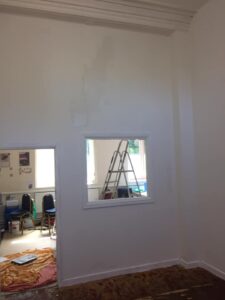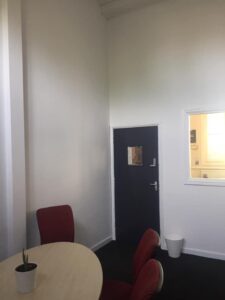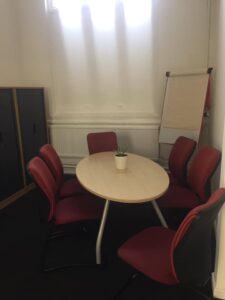 Our outside areas have blossomed over the summer, most of us may have missed it due to being in lockdown, but the boxes of flowers and vegetables at the front of the hall were spectacular thanks to all the beautiful weather and of course thanks to our wonderful garden fairy who watered them diligently. We are always looking for help with our outside spaces if you know anyone who would like to care for the Fearon Hall gardens or the Parish Green please ask them to get in touch.
During lockdown we realised that many other services were offering online access only, yet many Loughborough residents do not have access to computer equipment or the internet.  For this reason we have installed 4 desktop computers into our DJ Lounge.  We feel that with this as a resource Fearon Hall will be able to support people if they need to access services or products online.  These facilities can be hired as part of a room booking or as individual desktops which anyone can use to job search, complete housing applications etc.
Thanks to Loughborough Beacon & Jubilee Rotarians we have been able to decorate parts of Fearon Hall so it is now much more welcoming ready for when our community are once again welcomed into the hall.  A massive thank you to Michael Charlesworth for arranging and to Steve, Helen, Roses and all the other Jubilee Rotarians for your outstanding efforts.  For you to have given up 4 Saturdays of your own precious time to volunteer for our community is commendable and we cannot thank you all enough.
The staff office has also seen some changes due to the need for working with 2m distances.  The whole office was emptied decorated, carpeted and rearranged so that Meg & Dawn could work safely and continue to manage the Fearon Hall affairs for the benefit of our friends and Fearon Hall community.
Due to Covid-19 and the new guidance which must be followed once we reopen, we have emptied cupboards and rooms, sold lots of equipment which we cannot use anymore, bought new furniture and cupboards, changed the set up of rooms, had 6 rummage sales and raised lots of money to put towards treating hall users as soon as we can.  There are new fixtures and fittings in rooms which weren't there Pre-Covid, and we like the changes, we hope you do too.
We have received lots of support throughout lockdown to get to where we are today, from many volunteers whose names are listed below, we offer thanks to you all and please accept our sincere apologies if we have forgotten anyone: –
Chris, Rufus, Monty, Flora / Steve, Elliot, Becky, Spencer – Our family who have helped most days with anything and everything when it needed doing.
Susie – The Garden Fairy for looking after our flowers
Tracey – Receptionist & stationary sorter
Rick – Our resident (retired) architect & decorator
Dennis – The menace, our general handyman and green keeper
Michael with the Beacon & Jubilee Rotarians – decorating & sorting
Meg & Dawn – volunteered in excess of our paid hours because we love what we are trying to achieve.
There is still lots to do at the Hall, we continue to try to keep on top of the massive amount of maintenance involved in keeping period buildings such as Fearon Hall in the best condition possible for the maximum enjoyment of our local community.  We will continue to improve after lockdown and if you have skills which you could offer then please do get in touch, every little helps.