Since its foundation over 100 years ago Rotary has always worked locally, nationally and internationally on projects large and small.
The first ever project was providing a public toilet in Chicago.  Current campaigns range from the End Polio Now vaccination programme to helping provide clean water and sanitation, supporting education projects and equipping people with the tools to start a business to support their families, all around the world.
While playing a full part in all of the above, but also wanting to work more on a local level within our own community, last year's president of the Rotary Club of Loughborough Beacon, Michael Charlesworth, set about raising awareness of the needs of people in our own town within the local Rotary movement.
After passionate presentations by the Fearon Community Association, the Marios Tinenti Centre, the Wellbeing Project and John Storer Charnwood, the Rotary club was moved by the commitment of these unsung heroes and made cash donations to each charity to develop their work with the vulnerable in our town.  It was planned to develop this further by offering professional and practical support skills of Rotary members in various ways.
Then came Covid 19 and all those plans had to be suspended  – until recently.
Maintaining contact during lockdown the Loughborough Beacon Rotary Club has helped these charities in ways that will never be seen, just as they have continued selflessly supporting our communities.
But it's not all about money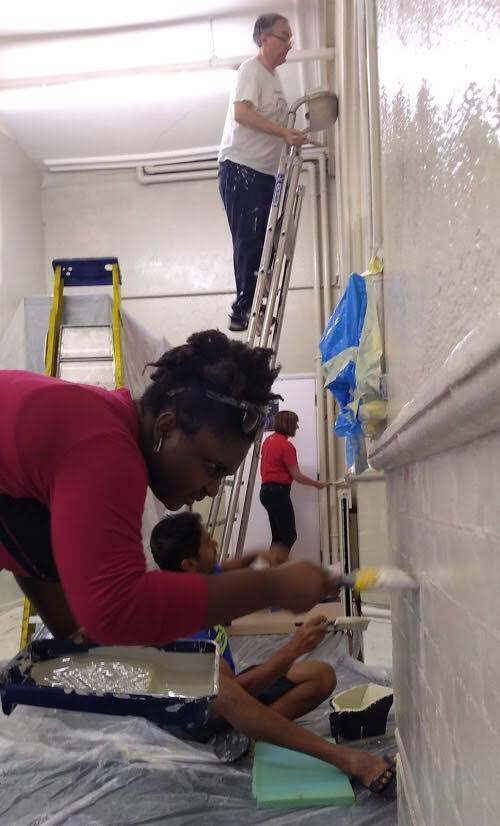 Loughborough Jubilee, Beacon's younger satellite club, found a practical hands-on way to make a tangible difference.
In preparation for its re-opening and return to full-time support for its service users, Fearon Hall has been getting jobs done that cannot be tackled easily when they are open.  Several areas needed "a lick of paint".  That was easier said than done for this grand Victorian building, but by drawing on skills from previous projects, including work with the Peter le Marchant trust, the Jubilee team was well up for the challenge, got their paintbrushes out and spent three weekends transforming the building, ably assisted by their aforementioned immediate past president.
The results have transformed the building, which now echoes in brightness and colour the warmth of the welcome everyone receives on going through the doors.
"Who are these guys?"  The members of Loughborough Jubilee are a great mixed bunch, with members from Nigeria, Sri Lanka and around the UK, from a variety of backgrounds but all united by a common purpose.
"Why would they bother?" you may ask.  No immediate connection to the area, few immediate contacts and are well under the age of most users of the Hall.
The Rotary Motto is "Service Above Self", or as Jubilee puts it "Having fun, Doing good," is your answer;  being part of an organisation that builds teamwork and new friendships and makes a real difference to the place we actually live in by getting involved.
Sometimes we just need to remember that: "When will 'they' sort it out?" could actually mean "When/ how can we- get it sorted ourselves?"
If you feel the same, get in touch to see how we can work together to make a difference in our community.